Project Runway, Season 3 Premieres TONITE!! Cannot wait. I've been waiting to fold a mountain of laundry because I knew I'd be sitting in front of the tv tonite! Well- ok- the mountain has just been sitting because if you know me- you know I talk often about the hatred of folding clothes. The mundane task ranks quite high on my Top Ten Hated Household Tasks...
Anyway- can't wait to see what characters/talent we have this season and I'm hoping Michael Kors is on the panel again. LOVE me some MK. Yes, he's rather flamboyant. I can't say I'm keen on THAT but he's a rockin' designer and a great judge of taste. Last season was SUPER enjoyable...loved it! Only a few hours until I take the remote captive! Hubster will sometimes watch this with me, but usually not! lol
Another "can't wait" is this!!!
Watch the Teaser Preview!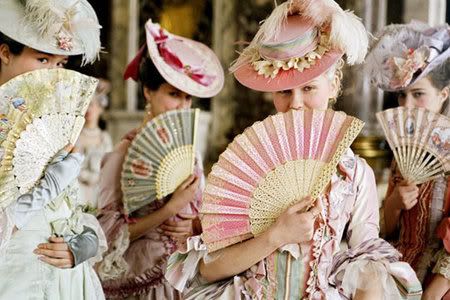 From what I can tell from soundtrack info, it looks like that fabulous New Wave music is throughout the movie- not just the previews! WAHOO!!! Very interested to see what Sophia Coppola did with this character and how it all jives...
Today is a slow day around here...we're lazing about, not getting much accomplished. I'm embarassed to tell you how late we all slept in! Usually they wake early and their stirring wakes me up- but they were down for the count this morning, thus, so was I! I did work with Matthew on his reading and Josie on writing her name more clearly. She pulled out all of her play musical instruments and sang and played for a long time. THen she begged me to dig out my flute and wanted to try that. She is one very determined child! She hasn't figured it out yest, but she sat concentrating and blowing for a very long time before *I* said it was enough for the day. Who knows...maybe she'll take after her mama!
I need to get moving- still have half the day left to get SOMETHING done! A girlfriend of mine and I initiated a challenge of sorts. First, we emailed pictures of our messy scrapbook areas to see who's was the worst. Then we began daily emails on progress of cleaning up said rooms (or should I say, at times, reported LACK of progress!) and we're posting pics again when our rooms are all tidy. I think she's beating me..and badly! So Christy- I'm waiting to be wow'd, girl. Better be getting "after" pics to inspire me soon!! Perhaps that will jumpstart me.
Tomorrow is my official "get back in the groove" day. What does this mean? It means- becoming a bit more structured with my time again. Making the time to work out and take care of myself. Making the time and effort to create and eat healthy meals. Making time to work with my kids on reading, drawing and creating. Making time for getting in the Word consistently. And last but not least, making time for myself to be creative. Doodle, paint, scrapbook...whatever. I need all these things to feel more balanced and to feel like I'm encouraging growth and good habits in my family as well. It may not all begin tomorrow, but tomorrow is a day of determined renewal and prioritizing in my life!