I hate how dark it is at quitting time and now with all of this crazy rain/wind storm stuff going on- it made me crave this chowder even more than I normally do in the Fall. Really CRAVE it. And a quilt. And my couch. And a good book. Alas, life is too crazy for much cozying up for hours on the couch, so I settled for a big batch of the chowder.
I got this recipe from my dearest, bestest friend. I think I may have pestered her for a while to give it up.. but she loves me and finally relinquished.
Once you make this it will become a household favorite, guaranteed!
J's Chicken Corn Chowder
1.5lb boneless skinless chicken breast
1/2 c. chopped onion
1-2 cloves minced garlic
3 T. butter or margarine
2 chicken boullion cubes
1 c. hot water
1/2 to 1 tsp. cumin
1 c. half and half
1 c. regular milk
2 c. shredded monterey jack cheese
1 16oz. can creamed corn
1 4oz. can chopped green chilies (undrained)
1/4 to 1 tsp. hot pepper sauce (Tabasco)
1 medium tomato chopped
fresh cilantro chopped
Toss chicken breasts into food processor and pulse until finely chopped. Brown with onion, garlic and butter/margarine. Meanwhile dissolve boullion in hot water. Add to pot with cumin and bring to boil. Reduce heat, cover & simmer for 5 minutes. Add all other ingredients except tomato & cilantro to the cumin/bouillion mixture. Cook over low heat, stirring frequently. Stir in tomato before serving and garnish with cilantro.
** Instead of tomato I always add mild salsa- and I just eyeball it and adjust to taste. Also, I tend to go "large" on some of the amounts of things- like two cloves of garlic, a full tsp. of cumin, about 1/2 tsp. Tabasco.
** I ALWAYS make a double batch of this because a) my family loves it as much as I do & b) it tastes even BETTER the day after you make it because all of those flavors have had time to gel together...soooo good.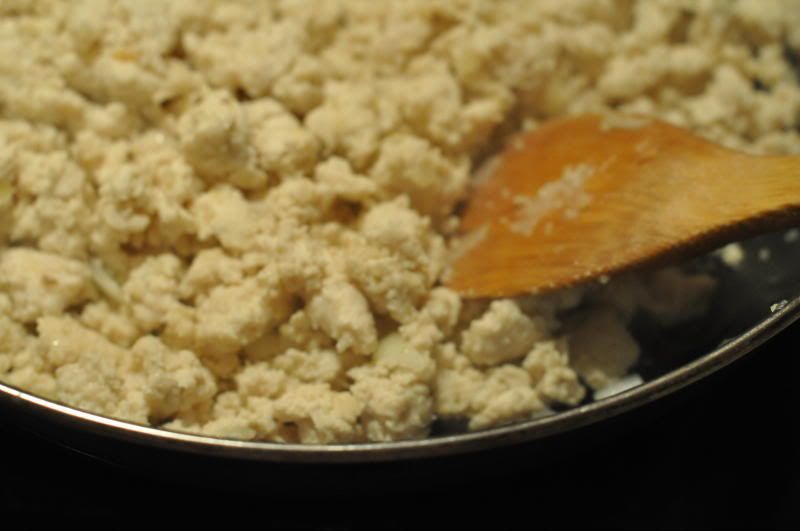 here's the ground chicken, "browned" with garlic & onion..ready to toss in with the cumin/bouillion liquid.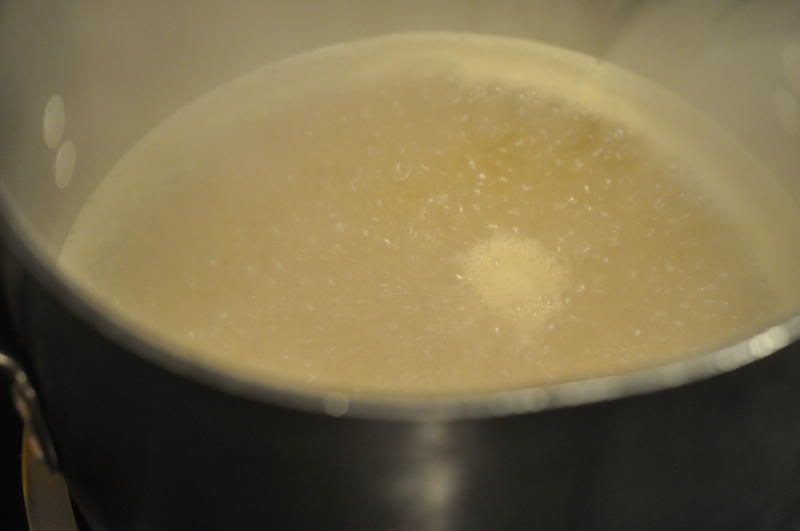 the original recipe called for 2c. half & half but we do half that & use milk for the other half.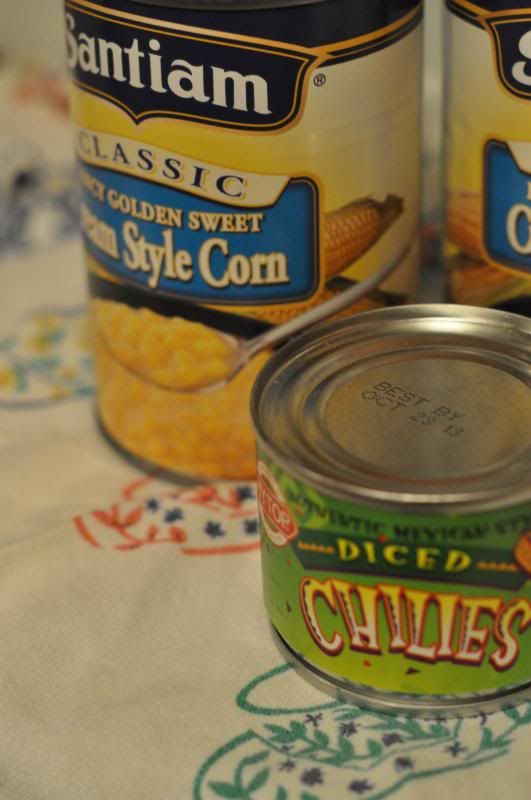 this recipe is THE. ONLY. WAY. I'll touch creamed corn.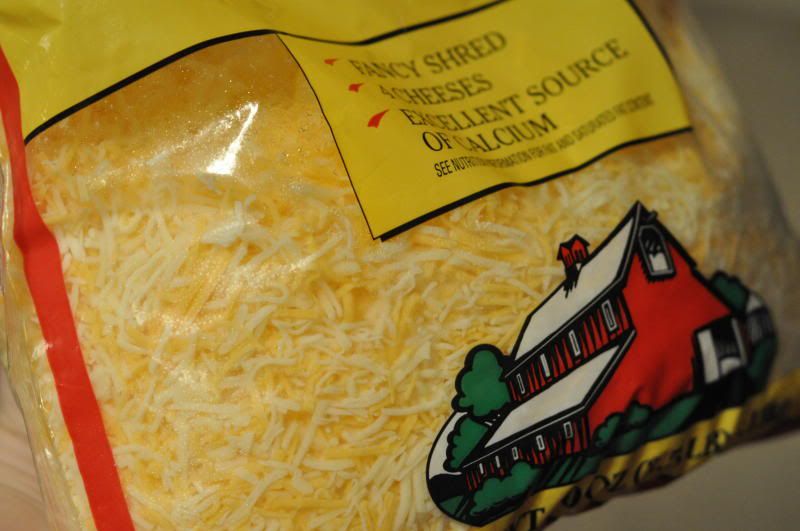 it calls for just Monterey Jack cheese but I ALWAYS have a big bag of the Costco cheese that's a "Mexican" blend of Monterey Jack in addition to others.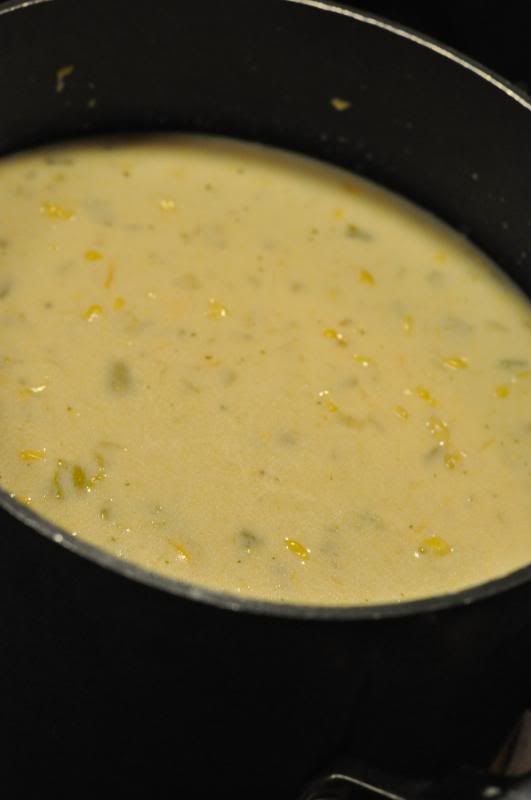 It's almost done! And our house smells SO good!! The kids are usually taking turns hovering and doing the "is it done yet? is it done yet?"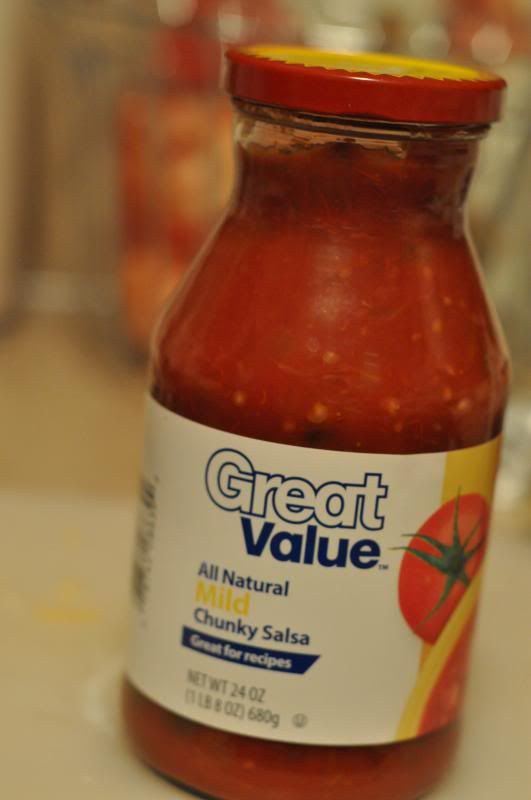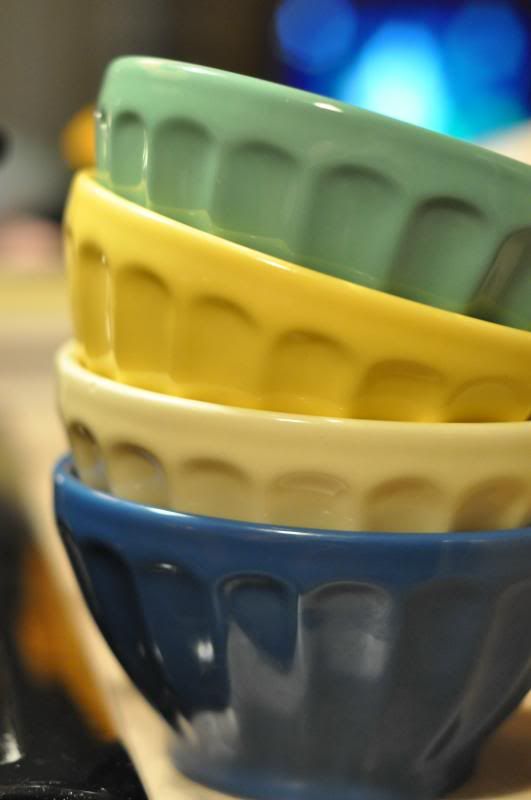 bowls are ready to be filled with goodness!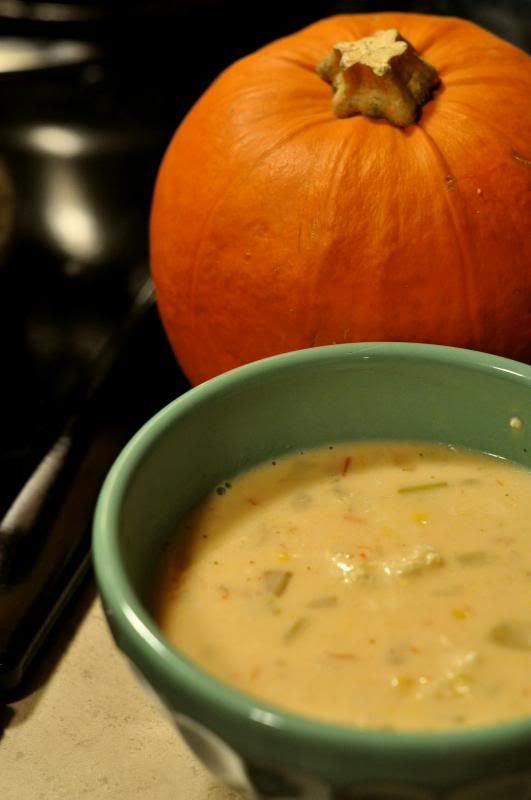 FINALLY. (It's actually very quick to throw together but it all smells so good it feels like an eternity)
If you make it, be sure to leave a comment and let me know what you thought of it!
Finally, here's a cute ceramic bowl my boss gave me for Thanksgiving. It was filled with apples and homemade caramel dip. So nice! It'll be the perfect thing to put my rolls in for Thanksgiving tomorrow!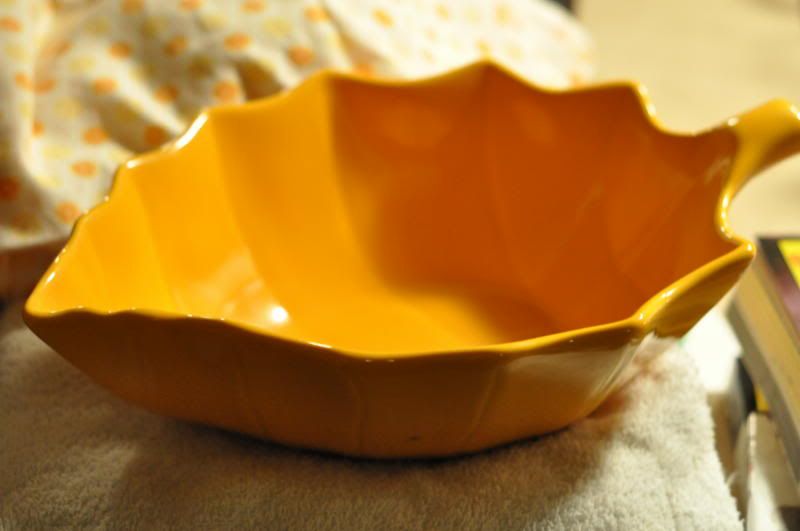 Have a blessed Thanksgiving!
x

o

x

o
~S