Had a busy but fun birthday celebration this year!! Started early- on July 21st, when the hubster brought home flowers, a card and chocolate truffle cake for dessert...and pizza for dinner. Mmmmm! On my actual birthday- we got up, went garage saling a bit and then headed to my cousins wedding. It was an outdoor wedding and thankfully the weather held for them (it had sprinkled earlier!)- and I don't know if it reached 104, but it was DANG HOT, ya'll. Here's a cute pic of Josie, Tori and Jasmine (flower girl)...Josie and Tori thought she was SO cool because she was wearing a white dress and veil like the bride- so thus, THEY were cool since they were hangin' with her! They sure start early, don't they?! Sheesh!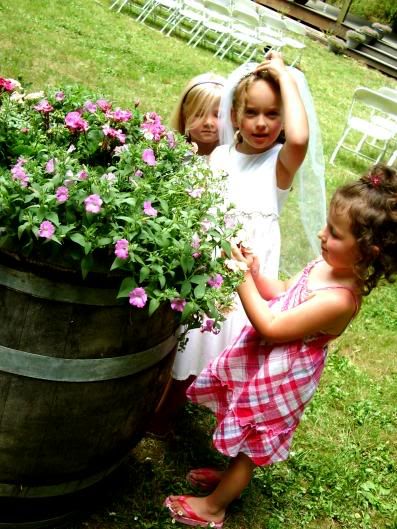 After the wedding we came home and just tried to lay still. Perfectly still. It was SO hot- and we only have AC in one bedroom. So we lazed about, then Josie went for a swim and Matthew and Robert played catch for a little while. Took some pics- it was perfect for it. Overcast but bright! And ummm, HELLO?! Do I have the makings of a future Abercrombie model on my hands or WHAT?! Isn't he handsome??
Check that collar out...funkin' it up all on his own! lol. And let's not forget the mermaid! She is SOOOO tan this summer-can't tell much in this pic- but she's BROWN with white hair--totally cute surf baby..er. minus the surf, I guess!
Aren't they gorgeous?!! Just gotta gush...love them so much!Anywho...Sunday, we went to church and I did my portion of VBS (oh.my.it was cuhraaazzy.)with 40 hyped preschoolers. That'll get your blood pumpin' in the morning folks! lol. Afterward, went and got an iced coffee and headed home. Picked up Robert and Pepper and we headed out to my parents for a birthday BBQ with them and my sisters families... nice and relaxed. We all visited and ate- tried to stay cool. It was another scorcher today! Around 5:30pm it had cooled off some and it was 100degrees. And this is in the cooler, country area now! EEEK! I'm all for hot summer weather but when you get little dark polka dot spots on your orange tank from beads of sweat--that's just out 'n out GROSS. Of course- that was purely a hypothetical situation. That would never happen to ME, of course. Pshaw.I got perfectly spoiled with good bbq food, good company and lovely presents. Check out my haul!!!!
All of it wonderful--can't wait to put it all to good use! And my gnome is already guarding the cherry tomatoes... playing a little tune on his..leaf.
Isn't he the cutest?!
It's been a wonderful birthday celebration this year... thanks to all my sweet friends and family who spoiled and blessed me with your gifts and cards and emails and surprises!!! I loved it ALL! XOXOXO
PS- Tomorrow I'll share the tags from 2Peas that some girlies surprised me with! Christy (maddiesmama)set up a surprise online for me-- TOTALLY loved that! :)