Somehow I managed to walk out the door without my camera on Easter. Aaarrrgg. It felt as though I was missing an appendage! I took a couple pics of the cupcakes I made to take to my parents for our annual family dinner. Though the holiday is already gone, thought I'd share them here anyway.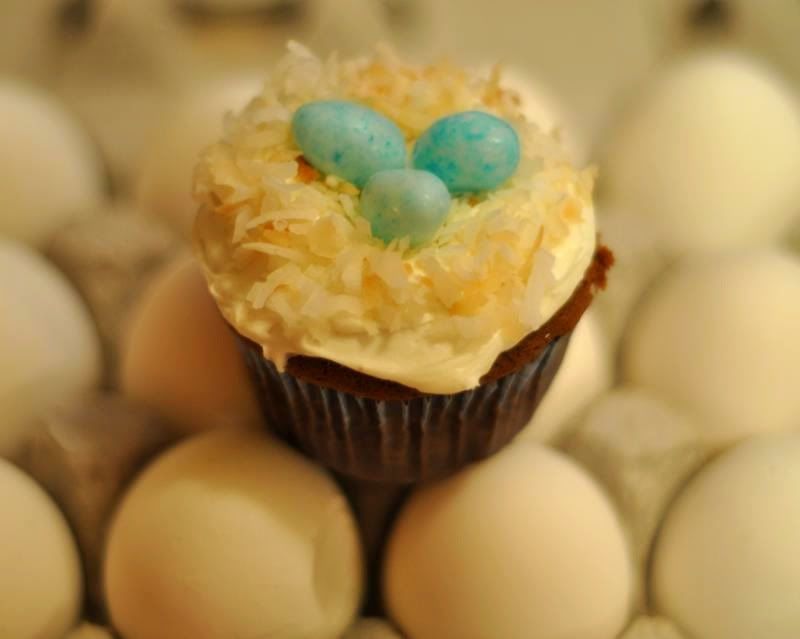 I loved the simplicity of just the little nests on top but I added the bunny toothpicks for added kiddie appeal. Chocolate cupcakes with whipped buttercream frosting. Toasted coconut "nests" with blue speckled jelly beans on top!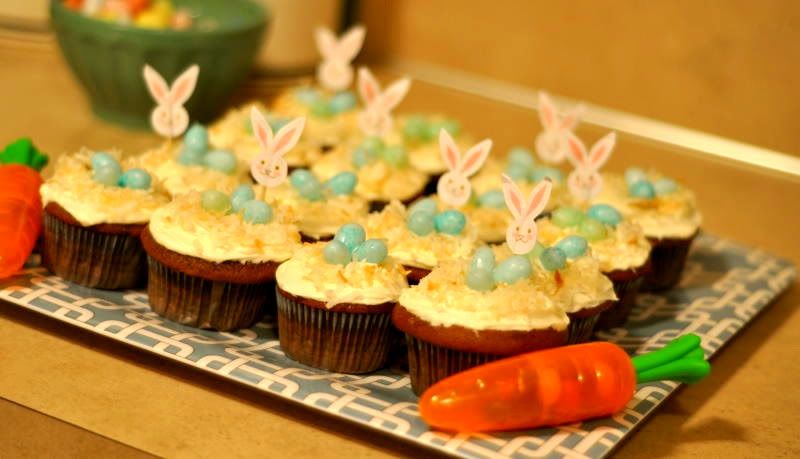 I made a broccoli salad as well, but didn't take any pics of it. It's a delicious, simple recipe....
Broccoli Salad
1 bunch fresh broccoli, washed, drained, broken into flowerettes
1 head fresh cauliflower, washed, drained, broken into flowerettes
1/2 c. chopped red onion
1 c. celery, chopped
1 lb. bacon, fried crisp, drained & crumbled
1/2 c. hulled sunflower seeds
1/2 c. raisins (&/or fresh red grapes, halved)
dressing:
3/4 c. mayonnaise**
1/4 c. sugar
2 tsp. vinegar
Combine salad ingredients together in large mixing bowl. Set aside. Combine dressing ingredients together thoroughly. Pour dressing over salad ingredients, stir to blend. Serve chilled. Yield: 12 servings.
* I'm a bit heavy-handed with all the salad ingredients- I add much more of everything- especially the bacon, grapes & onion!
**this time I used 1/4 c. of Poppyseed Dressing & the rest mayo and then cut back on the sugar and vinegar since the poppyseed dressing already had some of both in it already. Just adjusted to personal taste.
X

O

X

O

,
~S