Two years ago, I found this cute idea on the internet while blog hopping..but since we were homeschooling, we didn't really do a bunch of Valentine's. This year, the littles are attending a Christian school and in a typical classroom environment- so I sifted through the miles of "favorites" (seriously. it's out. of. control.) and we re-created it. I quickly discovered that cutting a slit in the photo above/under the hand didn't have enough give to push the lollipop through. So I grabbed a mini paper-punch and it was the perfect solution. The lollipops slipped through with no problem (ie: tearing/puckering of photo). I took the pics of the Valentine's late at night so the coloring is a bit off- but you get the idea.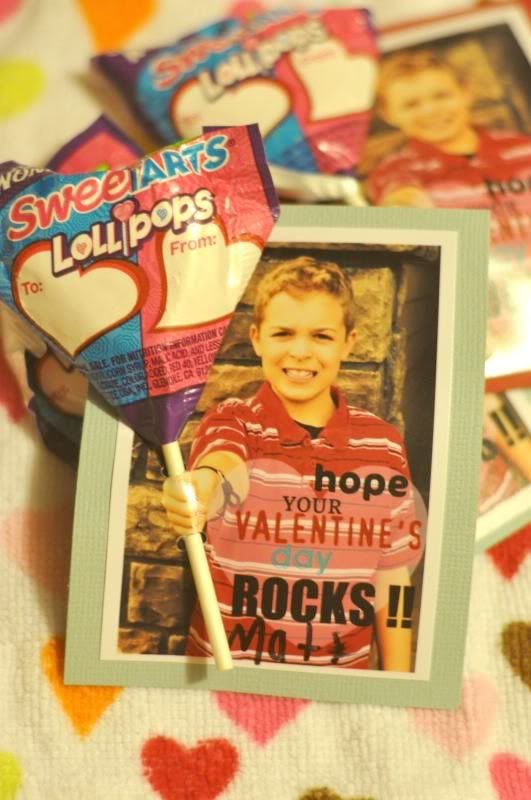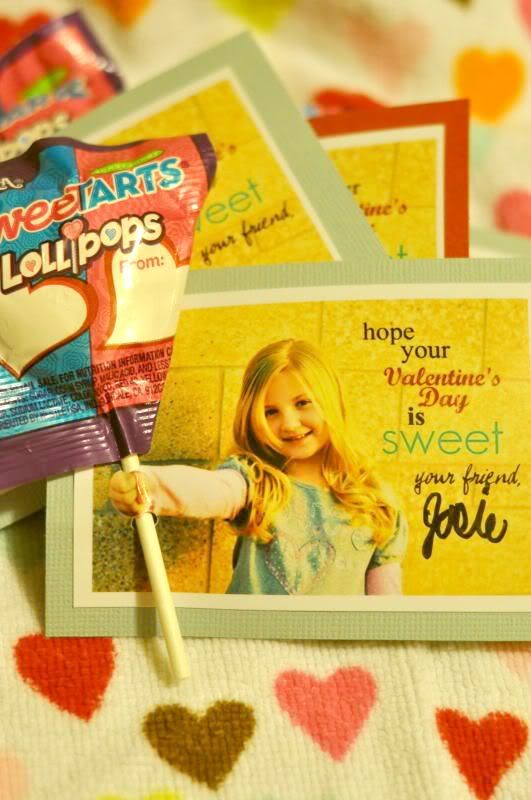 Things have been a bit NUTS around here the last few weeks. About three weeks ago, I picked up a cough somewhere. It sounded wet/gross almost from the get-go and then I started feeling flu type symptoms. After a week, I was getting worse- and having difficulty breathing and moving around. So I went to the ER and they took one look at me and whisked me away and the rest was pretty surreal...I landed in the ICU for a couple days and then was able to be in a regular room for a couple days after that with a pretty killer case of pneumonia. My left lung was almost entirely solid white on the chest x-rays, which apparently is really bad. ANYway- that was an experience I do not care to go through again. And if I ever have to receive shots in the stomach (to prevent blood clots) again, boy howdy.... those HURT!! I'm STILL coughing, STILL sore from all that coughing, STILL relying on an inhaler several times a day, STILL spending a lot of time in bed. I am getting better but it's slow going and driving me a bit crazy. I have so many things I want to do!!
The first day I was admitted, my poor hubby went home to take care of the kids and was going to clean up the house for me (remember- I was sick for a week prior to going into the hospital, thus NO housework was done. No dishes. No laundry. Yeah..nasty) and after a load of dishes were run in the dishwasher, the dishwasher started making odd noises. He went to investigate and found the kitchen floor flooded with water. He tried to turn the dishwasher off and it wouldn't..it wasn't hooked up to the breaker either! The landlord showed up and was able to get it turned off (some obscure button under the sink- totally WEIRD) but Bob and Matthew had a ton of water to clean up. Poor guys. We finally got a new one installed the day after I got home from the hospital.
My kids and hubby were total champs while I was in the hospital.. they kept up on homework, taking care of the dogs, and surprised me with a new bedding set when I came home. I felt blessed!
AND..I was incredibly blessed by my family and friends- all the texts, calls, emails, facebook messages,etc. of concern and prayers made my heart swell!
I'm eager to get back into the swing of things but still having to take it easy. As long as I keep improving, I'll have to just be patient. The control freak in me has a hard time with that though!
In the meantime, I've been reading and looking at TONS of magazines (my sister, my bff and the mail have all kept me in supply..there must be 40 lb. of 'em by my bedstand!), watching tv and movies on Netflix, blog surfing, haunting Pinterest, Ebay, and Facebook and enjoying time with my family.
Here's to a lovely Valentine's Day for you all!
xoxo
~Sarah