I've copied delicious looking recipes from magazines & borrowed cookbooks for years, but I'm not so good at actually USING them. In sorting through the piles, I came across this one from a past issue of Country Living magazine. And we tried it. And it was good. VERY good. So I'm passing it on to you.... the whole family gobbled this up- though my littles weren't overly fond of my heavy hand with the cilantro/slaw. They liked it- just less of those. Me? I layed it all on thick. LOTS of red onion, LOTS of slaw, LOTS of cilantro. The contrast of flavors gave it a lightness. We served ours on onion rolls, but I think I'll try it on the recommended cheddar biscuits next time. We served up four cheese mashed potatoes on the side...a bit of a heavy combo- but on a rainy evening, it was oh-so-good!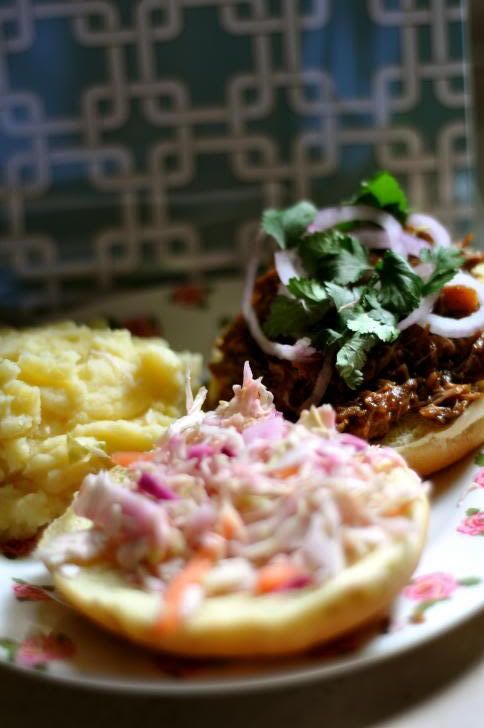 PULLED PORK SANDWICHES
3 1/2lb. pork shoulder roast
1 1/2 T. chili powder
3/4 tsp. salt
1/2 tsp. ground pepper
1 small onion, sliced
2 minced garlic cloves
1 1/2 c. barbeque sauce
1 c. addt'l barbeque sauce
Trim pork roast of any excess skin/fat. In small bowl combine chili powder, salt & pepper. Rub mixture all over pork roast until thoroughly coated. Place small sliced onion and the garlic in the bottom of a 4-6 qt. slow cooker. Add roast and the barbeque sauce. Pour water over roast until covered- about 2 cups or more. Cover and cook on high until very tender and meat falls off bone (3 to 5 hours). Carefully remove pork and reserve on platter. Strain cooking liquid into sink- keep onion. Return pork and onion to slow cooker- shred meat with fork and add 1 more cup of barbeque sauce. Cook on high until heated through (about 8 minutes).
Slaw Garnish
14 oz. bag cabbage slaw**
1 c. apple cider vinegar
1 medium onion per taste
fresh cilantro per taste
Toss bag of slaw with apple cider vinegar and set aside. Thinly slice red onion and remove leaves from fresh cilantro.
** this makes a TON of slaw for just being a garnish. I'd definitely cut it in half unless you're feeding a small dinner party.
Assemble sandwiches on biscuits or onion rolls and garnish with the slaw, cilantro & red onion slices.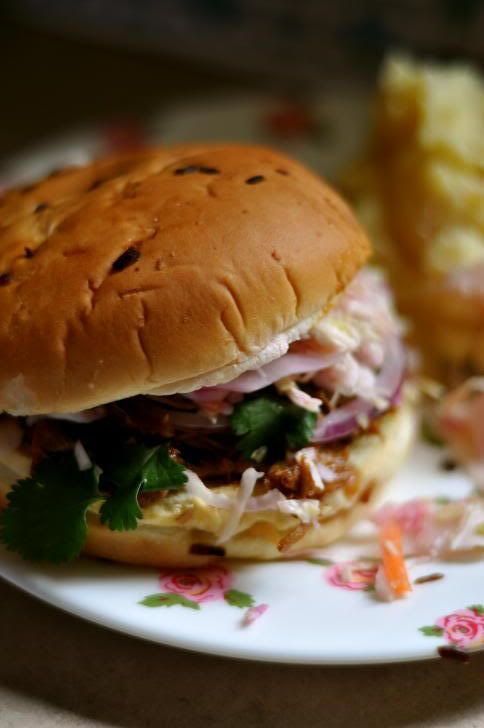 Pictures of pulled pork aren't beautiful but trust me-- you'll want to try this receipe. YUM.
X
O
X
O
~S